Addiction Rehab for the 21st Century.
Two Dreams is ideal for adult clients (18+ years old) struggling with substance abuse, addictive behavior, and mental disorders. We recommend our residential rehab program to clients who want or need to be out of their home environment in order to focus on changing addictive behaviors and developing a holistically healthy lifestyle.
Rediscover your Natural Rhythms.
Located on the tranquil, picturesque shorelines of the Outer Banks, North Carolina, our clinically luxurious, residential rehab facility, offers the ideal setting for focusing on your recovery needs.
Revive your Mind, Body, and Soul.
Our serene, coastal location affords us the opportunity to schedule recreational outings such as kayaking, surfing, beach walks, and Wild Horse Adventure Tours that help our clients achieve emotional peace, physical well-being, and personal productivity.
Accredited provider of the highest quality treatment.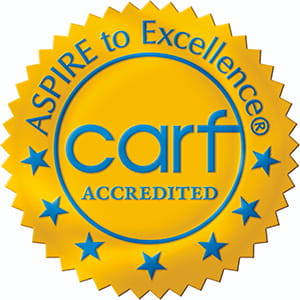 When considering an alcohol or drug addiction treatment provider, where do you look to determine which providers may offer the highest quality services? The answer is CARF International - an independent, nonprofit accreditor of health and human services providers.
CARF accreditation is a public seal of trust and commitment to quality based on internationally accepted standards. Achieving this accreditation demonstrates Two Dreams' commitment to exceptional, personalized care. An organization receiving the highest level of CARF accreditation has undergone a detailed peer review process and has demonstrated to a team of surveyors, during an on-site visit, its commitment to providing programs and services of the highest quality. For more information on CARF, visit www.carf.org.
Frequently Asked Questions
Many questions arise when seeking treatment for drug and alcohol abuse and addiction, and the other co-occurring conditions we treat. Some of the most common questions we hear from our clients and their families are as follows.
If you have any other questions, contact us to speak to our caring staff.
We are not a detoxification clinic, meaning that we do not manage medical issues related to the withdrawal drugs or alcohol, but we are happy to refer clients out for detox before they officially begin our program. Individuals may be admitted into treatment when there is a qualified diagnosis of need.
Pre-admission assessment screening will be conducted to gauge appropriateness for treatment services and to prepare the staff for the course of treatment.
We admit a maximum of 10 primary care clients at a time. By limiting admissions we are able to maintain a high staff to client ratio of 2:1 and provide the individualized attention and support that each client deserves.
Two Dreams is focused on providing a comfortable setting in which clients can fully engage in treatment. Our beach house facility is located on the peaceful shores of the Outer Banks in North Carolina. Every client has a private bedroom with either a king or queen sized bed and a non-shared bathroom. Our luxury residence also includes a full-sized kitchen, living room, game room, media/theater room, weight room, a deck with porch swings, and a swimming pool. The house is located a short walk away from the beach where clients can enjoy surfing, swimming, and relaxing in the resort-like atmosphere.
Our rehab treatment program is customized to fit each individual's needs, so length of stay is variable. The minimum length of stay is 28 days, and additional 28-day terms are scheduled as necessary. Our experienced staff works with each client throughout their stay to evaluate recovery progress and project timelines for goal completion. The average length of stay in our residential facility is 90 days.
The cost varies between clients so it is difficult to give an estimate without gathering more personal information. Insurance coverage varies by company and we are able to give various amounts of aid based on need. Our experienced financial counselor will help you navigate the payment process to determine your coverage and out-of-pocket expenses. We are here to advocate on your behalf to the insurance companies and make the process as stress-free as possible. Please contact us if you have any questions.
Electronics such as iPads's, iPod's, laptops, cameras, DVD's, CD players, etc. are not permitted at Two Dreams. Cell phones are allowed on the premises, but may not be carried around during the day. Therapists may allow certain phone privileges on a case-by-case basis, for example when it is needed to check important voicemail messages or to obtain contact information needed for treatment purposes.
Privacy is a top priority at Two Dreams. Clients decide whether or not any information about their treatment and/or progress may be shared with relatives or referring physicians. We never disclose personal confidential information without the client's written, documented consent.
What makes Two Dreams unique?
We believe in individualized drug addiction care here at Two Dreams.
Our comprehensive treatment model sets us apart from other programs in that we consider each individual holistically. In order to ensure that all areas of life are examined, we use a "3-7-3 Model" composed of Three Phases, Seven Dimensions, and Three Outcomes. This all-encompassing plan helps clients gain insight into the pervasive nature of addiction and decreases the likelihood of relapse.
Learn more about our unique "3-7-3 Model" approach to treatment.