Clinically Luxurious Residential/Inpatient Rehab.
Addiction Rehab for the 21st Century.
Two Dreams is ideal for adult clients (18+ years old) struggling with substance abuse, addictive behavior, and mental disorders. We recommend our residential rehab program to clients who want or need to be out of their home environment in order to focus on changing addictive behaviors and developing a holistically healthy lifestyle.
Rediscover your Natural Rhythms.
Located on the tranquil, picturesque shorelines of the Outer Banks, North Carolina, our clinically luxurious, residential rehab facility, offers the ideal setting for focusing on your recovery needs.
Revive your Mind, Body, and Soul.
Our serene, coastal location affords us the opportunity to schedule recreational outings such as kayaking, surfing, beach walks, and Wild Horse Adventure Tours that help our clients achieve emotional peace, physical well-being, and personal productivity.
Accredited provider of the highest quality treatment.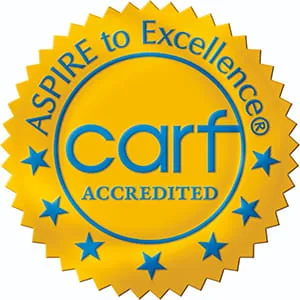 When considering an alcohol or drug addiction treatment rehab provider, where do you look to determine which providers may offer the highest quality services? The answer is CARF International – an independent, nonprofit accreditor of health and human services providers.
CARF accreditation is a public seal of trust and commitment to quality based on internationally accepted standards. Achieving this accreditation demonstrates Two Dreams' commitment to exceptional, personalized care. An organization receiving the highest level of CARF accreditation has undergone a detailed peer review process and has demonstrated to a team of surveyors, during an on-site visit, its commitment to providing programs and services of the highest quality. For more information on CARF, visit www.carf.org.
Frequently Asked Questions
Many questions arise when seeking treatment for drug and alcohol abuse and addiction, and the other co-occurring conditions we treat. Some of the most common questions we hear from our clients and their families are as follows.
If you have any other questions, contact us to speak to our caring staff.
What makes Two Dreams unique?
We believe in individualized drug addiction care here at Two Dreams.
Our comprehensive treatment model sets us apart from other programs in that we consider each individual holistically. In order to ensure that all areas of life are examined, we use a "3-7-3 Model" composed of Three Phases, Seven Dimensions, and Three Outcomes. This all-encompassing plan helps clients gain insight into the pervasive nature of addiction and decreases the likelihood of relapse.
Learn more about our unique "3-7-3 Model" approach to treatment.