Luxury Rehab on the Outer Banks
Addiction treatment for the 21st century.
We provide comprehensive recovery solutions for individuals and families dealing with a wide range of addictions. Our drug rehab program is specifically designed to give clients the tools they need for a long-lasting recovery.
Accredited provider of the highest quality treatment.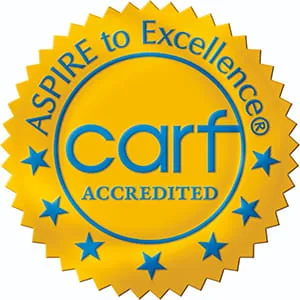 When considering an alcohol or drug addiction treatment rehab provider, where do you look to determine which providers may offer the highest quality services? The answer is CARF International – an independent, nonprofit accreditor of health and human services providers.
CARF accreditation is a public seal of trust and commitment to quality based on internationally accepted standards. Achieving this accreditation demonstrates Two Dreams' commitment to exceptional, personalized care. An organization receiving the highest level of CARF accreditation has undergone a detailed peer review process and has demonstrated to a team of surveyors, during an on-site visit, its commitment to providing programs and services of the highest quality. For more information on CARF, visit www.carf.org.
This unique philosophy provides the foundation for treatment at Two Dreams. It is a holistic approach to addiction treatment that requires patients to examine their progress introspectively in order to achieve a full spectrum of holistic wellness.
Patients are ready for discharge when they have completed the three phases of treatment, which combine the seven dimensions of holistic wellness, and when they are well on their way to achieving the three main outcomes of recovery: mental peace, physical wellbeing, and personal productivity.
Successful recovery from addiction through holistic wellness.
At Two Dreams, we offer additional services that instill healthy habits, and restore our clients' sense of possibility and empowerment.
Our wellness approach is to focus on the needs of the entire person rather than attempting to help them eliminate a subset of specific symptoms.
Using this treatment modality emphasizes the importance of each client gaining insights into how the interactions between their mind, body, and spirit affect their daily life. The insight gained at Two Dreams help instill healthy habits, which in turn create the change that lays the foundation to restore wellness and wholeness.
We'll work with your insurance.
We are able to access most out-of-network insurances. Our experienced staff we will work with your insurance company to ensure maximum coverage and reimbursement. 
Contact us today
 for more information and a complimentary benefit check or to inquire regarding the cost of our programs.
Frequently Asked Questions
Many questions arise when seeking treatment for drug and alcohol abuse and addiction, and the other co-occurring conditions we treat. Some of the most common questions we hear from our clients and their families are as follows.
If you have any other questions, contact us to speak to our caring staff.
Take Route 64 E ramp towards Virginia Beach/Chesapeake
Merge onto I-64 E
Take exit 291B to merge onto I-464 S/VA-168 S toward US-17 S/Elizabeth City/Outer Banks
Continue onto VA-168 S
Continue onto NC-168 S
Continue onto US-158 E
Continue onto NC-12 N/Duck Rd
Call us for the final directions! (504) 510-2331
Merge onto I-40 E toward Raleigh
Use the right 2 lanes to take exit 289 for Wade Avenue toward I-440/US-1 N
Continue onto Wade Avenue
Take the exit onto I-440 E/US-1 N toward Wake Forest/Rocky Mt/Wilson
Use the right 2 lanes to take exit 14 toward US-64 E/US-264 E/Wilson/Rocky Mt
Continue onto I-87/US-264 E/US-64 E
Keep left at the fork to continue on I-87, follow signs for Rocky Mont Tarboro
Continue onto US-64 E
Take exit 515 for US 64 E toward Plymouth/Manteo
Continue onto US-64 E
Continue onto US-64 E
Continue onto US-158 W
Use the right 2 lanes to turn right onto 1493
Continue onto Ocean Blvd
Continue onto NC-12 N/Duck Rd
Call us for the final directions! (504) 510-2331
Take I-40 W to NC-41 N in Island Creek. Take exit 385 from I-40 W
Continue on NC-41 N. Take NC-241 N, NC-11 S N and NC-102 E to US-17 N in Chocowinity
Turn left onto US-17 N
Turn right onto NC-171 N
Continue on US-64 E to Kitty Hawk
Continue onto US-158 W
Use the right 2 lanes to turn right onto 1493
Continue onto Ocean Blvd
Continue onto NC-12 N/Duck Rd
Call us for the final directions! (504) 510-2331