Dream Journal
Note from Dr. B.
The holidays can be a difficult time for individuals in recovery: frustrating family members, crazy Christmas parties, stressful shopping trips, etc. You don't have to let the season get you down though! There are plenty of ways to stay centered and sober during the winter season. Make sure to listen to your body and avoid letting yourself get hungry. Maintain a regular meal plan full of nutritious fruits and vegetables. Eating a plateful of cookies may seem like a good idea when you're at an event, but the inevitable sugar crash is likely to make you feel irritable and fatigued shortly afterwards. Negative emotions can be a precursor to relapse, so try to avoid the unhealthy snack table as much as you can. I recommend bringing a bag of healthy trail mix to events so that you'll be prepared if you get hungry.
Sleepiness can also cause irritability and negativity. You are more likely to make irrational decisions when you're running on a couple of hours of sleep, so try to get at least 7-8 hours of shut-eye every night. Waking up and going to bed at the same time every night will help to keep your body functioning regularly, so try to avoid attending too many late night events. It is also important to sleep in a dark environment, so keep the Christmas lights and glowing decorations out of the bedroom.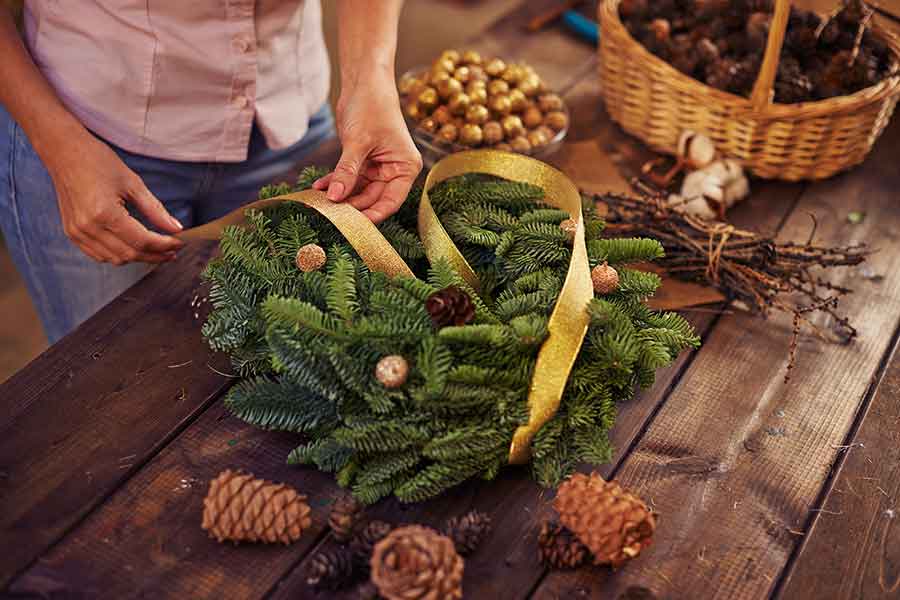 Lots of holiday parties will inevitably be serving mulled wine and other alcoholic beverages, but you don't have to let that keep you from celebrating. Protect yourself through preparation. Avoid parties with heavy alcohol consumption, or leave before a majority of guests start drinking the night away. Keep an alternative beverage in hand, such as non-alcoholic eggnog, to keep people from offering enticing drinks. Focus on enjoying time with the people you love, and steer clear of those who are likely to provoke you. Most importantly, remember that you are loved and that you can get through the holidays. I believe in you!
Best, Dr. B
---
Monthly Tradition
"Tradition Twelve- "Virtuous Principles"
Walking through the door of an AA or NA meeting for the first time is a scary step for most addicts confronting their problem of addiction. Who might they know who will see them at this meeting? How will they be judged? What will become of their reputation? Will word of their descent into addiction spread like wildfire throughout the community? These, and similar fears, can cause addicts to avoid meetings for far longer than they should. Anonymity may indeed provide a degree of sanctuary and reassurance for those entering a 12-step program, yet it is not the main purpose of this tradition. Tradition twelve speaks of a spiritual foundation that runs through all previous eleven, a concerted emphasis on principles over personalities. It is an expectation that all members check their outside identities at the door. No individual's status, prestige, fame or wealth carries any more clout than any other member. Spiritual considerations are given exclusive influence over how groups and the organization as a whole operate. As such, those with personalities otherwise sufficient to gain sway within and without the 12-step organization are called to sacrifice their guile for the greater good.
12-step organizations derive a protective quality in allowing the steps of their program to do all the talking. Early in its history, AA felt the sting of propping up well-intentioned celebrities to endorse publically how the program worked wonders for them. On one of these occasions, the unfortunate spokesperson relapsed, and all that may have been gained from the association backfired to a far more serious degree. While millions have discovered long-lasting and happy sobriety in the embrace of 12- step programs it only takes one, held up as an example, to fall to relapse and exact the sweeping condemnation of droves. Already edgy about the prospect of abandoning their addiction, the personality-gone-wrong is heralded as evidence that the program will "not work for me either!" In the book, "Twelve Steps And Twelve Traditions," the dilemma leading to the creation of tradition twelve is met head-on: "We simply couldn't afford to take the chance of letting self-appointed members present themselves as messiahs representing AA before the whole public. The promoter instinct in us might be our undoing. If even one publicly got drunk, or was lured into using AA's name for his own purposes, the damage might be irreparable.
At this altitude (press, radio, films, and television), anonymity – 100 percent anonymity – was the only possible answer. Here, principles would have to come before personalities, without exception." In discarding the power of a strong personality in favor of these spiritual principles, a 12-step member has the measure of clear spiritual principles to guide them. The influence of personality has the potential to distract by way of comparison or compensation, allowing for the faulty notion of cutting corners. This is a slippery course even for non-addicts, let alone for those well-versed in making risky decisions.
---
Monthly Tradition
The 12th Tradition.
Woodstock, GA
Guest Writer
In thinking about the theme for the month I prefer to consult the "long version" of the 12th Tradition because it mentions that "the principle of anonymity has immense spiritual significance" and that "we are to practice a genuine humility". A close friend and brother in recovery, Dana R. teaches a Big Book study group in which he suggests performing "5 Random Acts of Kindness" each and every day. These acts, he says, should be unselfish and anonymous in nature. The acts may be minor, for example holding a door open for another person or letting someone in front of you in the grocery checkout line, or they may be major, for example volunteering at a shelter or gathering clothing for a recovery center. It states in the Big Book on page 20, "Our very lives, as ex-problem drinkers, depend on our constant thought of others and how we may help their needs."
I do not believe that we should confine our efforts to helping only those in recovery, although we are uniquely qualified to help others with the disease of addiction. We do not perform good deeds in order to be identified by name or affiliation to AA; we are practicing genuine humility in our anonymity. We are reminded that our own great blessings, abilities and opportunities to perform these acts are a gift from our Higher Power and that all thanks, be it from those we serve or appreciation for the opportunity to serve, should be directed to Him from whom all blessings fall.
---
Client Artwork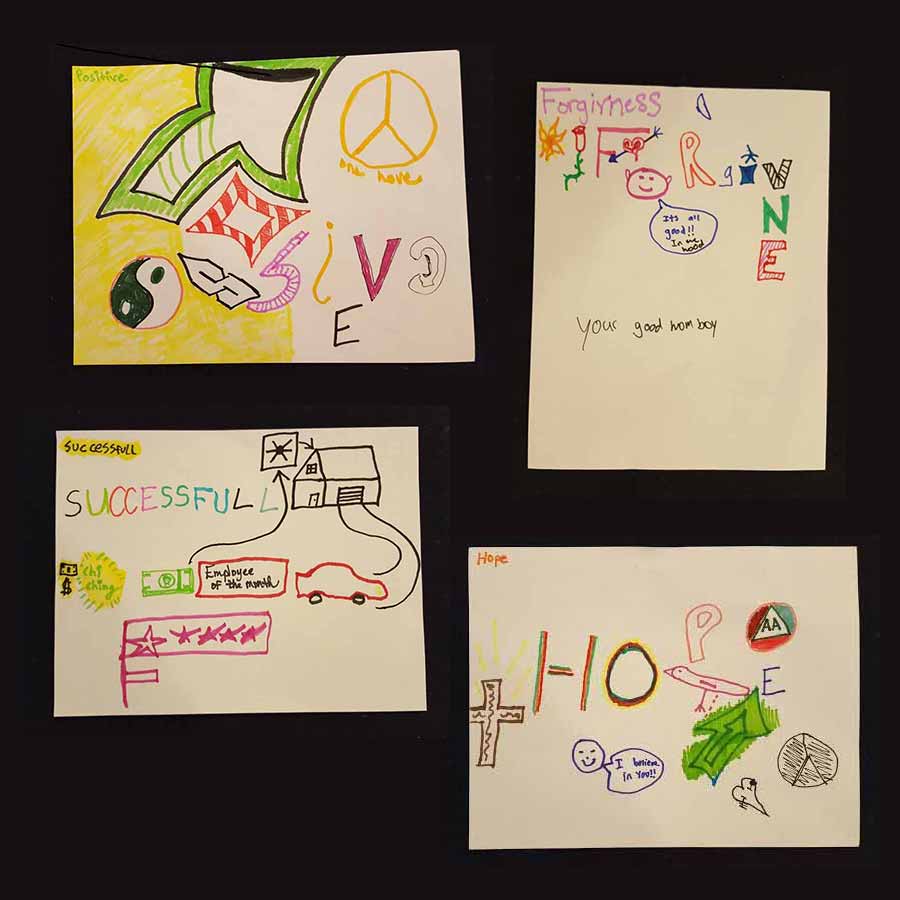 ---
News Highlights
Children of Drug Users are Growing Victims in Opioid Epidemic
The opioid crisis is taking a toll on all generations. An increasing number of children are witnessing drug use and overdose by family members, and being forced to take on the adult role of caretaker at a young age. Addiction so skews the priorities of those in its grasp, that even the best parents can lose sight of the virtuous path and their childrearing responsibilities. Officials in Manchester, NH have created a position of child and witness victim advocate in order to help these traumatized children cope with their situations..
Prescribing Opioids At Discharge—Virtuous or No?
First time opioid-users are at a high risk of turning into abusers if they leave the hospital with a prescription for more. Studies have shown that patients discharged on opioids are almost five times more likely to become chronic users, as compared to patients discharged without medication. Going forward, physicians should effectively screen patients for abuse risk factors before giving them scripts and/or a sizable quantity of drugs.
---
Community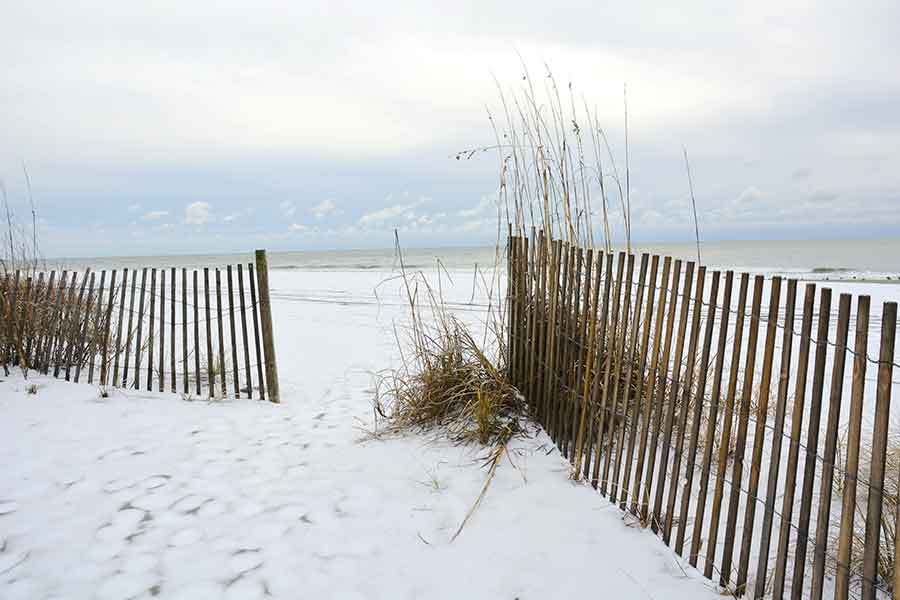 Here we are…welcoming another month into the calendar year…where has the time gone? November was such a humbling month here on the Outer Banks, and we are extending our Thanksgiving gratitude into the month of December with "25 Days of Gratitude," reminding ourselves of something we're thankful for every day. Research has shown that in practicing gratitude, we can train our brain to recognize and exercise positivity in a meaningful way. To quote author, Melody Beattie, "Gratitude makes sense of our past, brings peace for today, and creates a vision for tomorrow". Living on the Outer Banks this time of year allows us to slow down and recognize who we are today, while having an appreciation for who we have been! During this next month we will also be engaging in some fun activities such as Wild Horse Tours, Winter Lights at Elizabethan Gardens, and a few remaining beach days before the winter weather moves in! As we countdown to 2016, The Two Dreams Family would like to wish you and yours a Merry Christmas and a Happy New Year!
---
The 3P'S
Mental peace – physical well-being – personal productivity
Mental Peace: When we have mental peace we can avoid letting addiction push us into less honorable ways. It is easier to do the right thing when we are clear-headed and in tune with our morals and ourselves. When we are free from the mental burdens caused by addiction, we are free to be upright members of our communities.
Physical Wellbeing: Being healthy allows us to use our talents fully. We can better help others when we physically help ourselves. Our bodies are able to do amazing things and we should take advantage of that in order to live the fullest, most righteous lives we can live. When we get rid of the negative effects that addiction has on the body, we become motivated to help others do the same.
Personal Productivity: We can be personally productive even by doing little things, like cooking a meal for a sick friend or giving directions to someone who is lost. Activities like volunteer-work enhance our recovery and encourage other people to pay it forward too. When we stay active members of the community, we are contributing to society and making the world a better place.
---
Staff Highlight- QA with Nancy Davis
Q. What is your current position and job description?
A. My current position is Outreach Coordinator and Administrator for the Two Dreams New Orleans office. I manage the office and personnel here in New Orleans. I also talk to other treatment facilities and clients about the Two Dreams recovery plan options.
Q. Where did you work before Two Dreams and what did you do?
A.Before I began working for Two Dreams, I was in the legal field for many years. I worked as a legal secretary, primarily in the areas of insurance defense and worker's compensation defense.
Q. What has your journey been like at Two Dreams?
A. My journey with Two Dreams has been amazing. I have been passionate about addiction treatment for a long time and am honored to be in a position to bring Dr. Barthwell's vision for treatment to those in need.
Q. What made you get into this profession?
A. I have been around addiction all my life and have been in recovery for over ten years. Sid Miltz, our executive clinical director, has been an instrumental part of my recovery. When he told me that Dr. Barthwell was beginning an outpatient program in New Orleans and asked if I was interested in being a part of that, I was more than happy to join the Two Dreams team. "
Q. What is the most gratifying part of your job?
A. What I love most about my job is being able to work with others who have the same passion that I do: helping people who struggle with the disease of addiction. I love being able to give hope to people.
Q. What do you like about the Two Dreams program?
A. Through personal experience, I have found that recovery is more than just abstinence. The Two Dreams program provides a foundation and tools to renew one's spiritual, emotional and physical wellbeing after the damage of addiction.
Q. Where did you go to college and post-grad and what did you study?
A. At one time I took some courses in hopes of going into the field of social work but I did not ultimately complete college.
Q. How would others describe you? How does your personality complement the work you do?
A. I think most people describe me as funny (even goofy?) with a sincere desire to connect to and help those around me. I am a "people person" for sure and openly express my passion for letting others know there is a solution to substance abuse.
Q. What do you like to do when not at work? What are your favorite hobbies?
A. When I am not working, I enjoy working with others in the fellowship of Alcoholics Anonymous. I spend a good amount of time with my family and loved ones as well. My main hobby for many years has been singing in bands, although I not currently in a band at this time.
Q. Anything else you would like us to know?
A. That I am extremely grateful to be able to wake up sober each day, knowing that if I put my best foot forward I just might be able to make a difference in someone's life.
---
Adrienne's Reflections
"Anonymity is the spiritual foundation of all our Traditions, ever reminding us to place principles before personalities."
"Anonymity is the spiritual foundation of all our Traditions, ever reminding us to place principles before personalities." When thinking about anonymity as a spiritual foundation of all the Traditions, a predominant theme of sacrifice emerges. In each Tradition the group or individual is asked to give up something for the common welfare of A.A. as a whole. The traditions ask that the common good be placed before individual desires. For instance, they say that we should seek direction from a group conscience or power greater than ourselves. Regardless of personal preference, we cannot and should not exclude any alcoholic from A.A. membership. There is no centralized authority but each group should be responsible for communicating with other groups regarding matters that might affect them all. The traditions restrict the purpose of the group to carrying the A.A. message. They say that we should avoid being influenced by money, property and personal authority…that we should avoid making alliances or endorsements. As A.A. members we should also pay our own way-refusing large contributions from members and outside donors.
The traditions reflect the importance of remaining a service organization directly responsible to its members. They say we should avoid entering into public controversy, and that personal ambition has no place in A.A. The last tradition in particular emphasizes the importance of principles that reflect eternal and universal spiritual values. With unity as the goal, self-reliance is no longer the basis for living. A useful life emerges from the ashes of self-centered ambitions. While the twelve steps have been referred to as a design for living, many have found that the twelve traditions also provide a framework for creating and maintaining unity within families and in various civic and volunteer service organizations. On a personal note, I have found that I am more at peace when I try not to express an opinion on matters that I know little or nothing about. Like the group, I strive to be fully self-supporting while declining outside contributions. I live life one day at a time, trying to be of maximum service to others.
---
Two Dreams New Orleans
I recently attended "A Taste of Recovery" event in Jackson, Mississippi, which spotlighted Daryl Strawberry and his journey through recovery. Mr. Strawberry's story of becoming a national baseball star, hitting rock bottom because of addiction, then rising back up to a sober life in recovery is one of hope and redemption. The night after that event, I attended a ceremony in which the National Council on Alcoholism and Drug Dependence honored Ruth Ann Rigby of Capstone Treatment Center for her service in the field of recovery from addiction. Ruth Ann is an inspiration and a true example of compassion and service for those suffering with the disease of addiction. It was truly an honor to participate in these two events as it confirms that there is hope for those suffering. If you or someone you love find yourself hopeless and in need of guidance to a life of recovery, please contact our Two Dreams office and we will be happy to assist you on this journey.
If you or someone you love feel that change is in order, please contact our Two Dreams office and we will be happy to guide you towards a more peaceful and meaningful life experience.
---
Two Dreams Chicago
The end of the year is approaching and Two Dreams Chicago is welcoming the winter season. Our office continues to see clients in all weather conditions; we even stayed open during a record-breaking snowstorm in late November! This past month, Two Dreams CEO Dr. Barthwell was a featured speaker for a Millennium Health educational webinar. Her talk was entitled "Appropriate Urine Drug Testing in Substance Use Disorders: Clinical Consensus Recommendations." Dr. Barthwell also presented a series of lectures at the Township Officials of Illinois Annual Educational Conference in Springfield, IL. Participants were given effective techniques on establishing open dialogues with their children, identifying risky behavior, and creating a plan of action to motivate and encourage better decision-making. Dr. Barthwell also discussed how parents should demonstrate and foster healthy habits with their kids, recognize the warning signs of risky behaviors, and establish a safe, structured environment so adolescents can grow into successful and healthy adults.
---
Thank you to our content contributors:
Dr. Andrea Barthwell – Founder
Greg Schlicter- TDOB Therapist
Ed Johns- Guest Writer
Adrienne Brown – Guest Writer
Nancy Davis – TDNOLA Community Outreach
Aubrey Briggman – TDOB Admissions Director
Kate Lawrence – TDOB Therapist
Jennifer Williams – TDOB Medical Case Manager
Destiny McClain – TD Administrative Assistant
Megan Crants – TD Clinical and Staff Writer
Ivan Munoz – TD IT and Multimedia Support
For admissions and all staff call us at: (504) 510-2331
© 2015 Two Dreams. All Rights Reserved.